Cwejman
Wowa Cwejman from Sweden has been engineer for high professional outboard equipment once his son in law asked him about analogue synthesis. A following production of a first halfmodular synthesizer S1 was at the same time kickoff for the first high quality production series of 1/8th inch minijack eurorack modular components.

No Cwejman modules in stock. If they are, you will see it by clicking on the product
If you want to order cwejman, please send an e-mail to us. Delivery times are long, from several months up to more than a year.
! >>!!!! http://www.cwejman.net/ribbon_cable.pdf
Stock?

Click on the product and you will see the amount that is in stock!

In voorraad?

Klik op het product , dan zie je hoeveel ervan in voorraad zijn!
Sold out? Mail us.
Website manufacturer: http://www.cwejman.net/
Shopping cart
No items in shopping cart.
Special Offer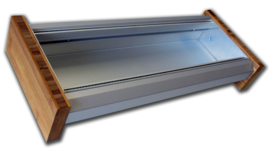 MS-84SB 84HP Skiff silver + Bamboo (eurorack case)
€ 350,00
€ 275,00