Delivery / Levering
Modularsynthesizers.nl delivers in The Netherlands and other countries within the European Union (EU) only. (so we do not ship outside the EU!)
Delivery will mostly be done by POSTNL as a registered shipment. You have to sign for delivery. For countries outside The Netherlands the deliverytime of the products normally takes 3 to 7 working days after receiving your payment (if in stock). When delivery takes longer you will receive a message about the estimated delivery time. When your order is shipped you will receive a confirmation with tracking details.
Orders normally are shipped the next morning and sometimes the same day. Orders placed after friday 12.00 will be shipped the next monday.
More information about shipping/returning goods please check our General Terms and Conditions
Delivery Costs:
Delivery costs within EU are euro 19,- to euro 85,- depending on weight (see your shopping cart)
Delivery costs within NL are euro 10,35 to euro 50,- depending on weight (see your shopping cart) (No Shipmentcosts in NL above Euro 360,00)
___________________________________________________________________________________
Levertijd:
Nagenoeg alle zendingen worden met PostNL aangetekend verstuurd. Voor ontvangst is dus een handtekening nodig. De zendingen worden verstuurd na ontvangst van uw betaling. Het kan zijn dat de zending dezelfde dag nog wordt verstuurd, maar in de regel dient u 1 tot 5 werkdagen levertijd aan te houden. Indien de levertijd langer is dan 5 dagen wordt u door ons op de hoogte gesteld van de verwachte leverdatum. U ontvangt een verzendbevestiging met trackingcode wanneer uw bestelling is verzonden.
Bestellingen worden doorgaans in de ochtend verzonden op werkdagen van maandag t/m vrijdag. (orders geplaatst op vrijdag na 12.00 worden de maandag erop verzonden)
Zelf afhalen:
Het is mogelijk om uw bestelling zelf in Den Haag op te halen. U dient dan bij het uitchecken "pick up at merchant" te kiezen. Vanzelfsprekend betaald u dan geen verzendkosten. Wel dient u vooraf per bank of ideal te betalen. (Geen contante betaling en ook geen pin) Na ontvangst van betaling kan er een afspraak worden gemaakt om uw bestelling in Den Haag op te halen. (Openingstijden: zie hier)
Verzendkosten:
De bestellingen worden aangetekend en/of verzekerd verzonden via PostNL. De verzendkosten bij modularsynthesizers.nl zijn vanaf € 9,95,- per bestelling, afhankelijk van de grootte/gewicht van de bestelde artikelen. Geen verzendkosten bij orders boven € 350,00 binnen Nederland mits onder de 10kg, boven de 10Kg worden verzendkosten berekend. Alle orders, dus ook een kabel, T-shirt of DVD worden aangetekend en goed verpakt verzonden. Doordat pakketten aangetekend worden verzonden is de kans kleiner dat ze zoekraken dan wanneer we ze met de reguliere post versturen. (We doen dus geen kabeltje in een enveloppe met de reguliere post.)
Retouren: (check de algemene voorwaarden) (Herroepingsrechtformulier)
Indien u iets wenst te retourneren stuur dan eerst een email naar info@modularsynthesizers.nl zodat wij op de hoogte zijn en u de juiste gegevens kunnen verstrekken voor retour zendingen.
Graag bij uw retourzending altijd uw Order/factuurnummer van de bestelling vermelden (deze staat in uw order bevestiging die u via email van ons heeft gekregen). Zorg voor voldoende frankering voor de zending, bij voorkeur aangetekend. Als de zending onvoldoende of niet gefrankeerd is kan deze niet aangenomen worden door ons en gaat deze retour afzender.
U bent zelf verantwoordelijk voor de retourzending. U kunt er zelf voor kiezen om deze bij het postkantoor aangetekend en/of verzekerd te verzenden. Bij aangetekend verzenden ontvangt u automatisch een track & trace nummer en kunt u zien wie er getekend heeft voor ontvangst.
U ontvangt bericht van ons zodra uw zending retour ontvangen is.
Shopping cart
No items in shopping cart.
Special Offer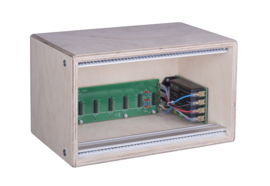 Doepfer A-100LC1 Low Cost Case 3HE/48TE, 100-240V (erurorack case)
€ 130,00
€ 119,00