Eurorack Modular??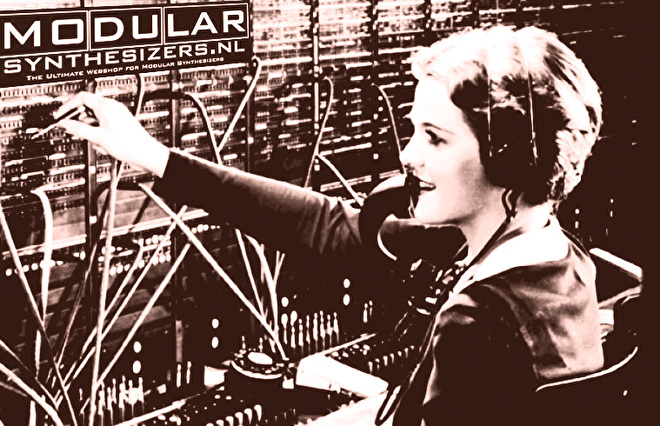 Some background information about Modular Synthesizers in the Eurorack Format:
Definition of Eurorack?
A modular synthesizer format which falls into the "small format" category. Not to be confused with various standards for industrial and lab instrumentation which use the same name (or with the line of low-cost mixers marketed by Behringer under this name), this Eurorack format calls for modules of 128.5mm (slightly over 5") height. Horizontal width is measured in "horizontal pitch", where 1 HP = 5mm (very slightly less than 0.2"); most manufacturers use a horizontal unit definition of either 1U = 4HP, or 1U = 6HP. 3.5mm phone jacks are used for interconnection.
Unlike most formats used by current modular manufacturers, the Eurorack format calls for ±12V power (most other current formats use ±15V), in addition to +5V required by some modules. Unfortunately, the power connections are not well standardized; the format uses ribbon cables for power and a two-row ribbon cable connector containing either 10, 12, or 16 pins. The 16-pin connector uses some of the extra pins to distribute control voltage and gate signals from a keyboard to the modules via a common case connection.
Modular synthesizer?
A synth which is constructed from discrete functional modules (such as VCOs, VCAs, envelope generators, mixers, etc.), which the performer can purchase and install individually as needed to construct any desired configuration. The first practical synthesizers as we know them today, beginning with the work of Donald Buchla and Bob Moog in the early 1960s, were modular in construction.In a typical modular synth, all inputs and output within each module are accessible via jacks on the front panel, and are routed by the use of patch cords; there is no pre-defined routing. (If no patch cords are plugged in, the modular makes no sound.)

Because of this, modular synths are considered by many to be the ultimate in complex-sound creativity, as the number of possible signal routings in any non-trivial configuration is nearly infinite, and the system is fully open to interconnection with external devices at any point in the signal chain. However, this flexibility and lack of pre-wired connections makes this type of synth difficult to learn and to play. Also, the modular method of construction is relatively space- and cost-inefficient, meaning that a large configuration will require a substantial amount of time, space, and money to set up. (Among other things, this means that as a practical matter most modular synths are monophonic, as a polyphonic setup requires multiple copies of everything.) All current modular synths employ analog signal routing and most of the module circuitry is analog, although there are some digital processing modules available. Modular synths disappeared from the market in the 1980s, but since about 1997 have made a significant comeback, with dozens manufacturers currently active in the market.
Phone Jack?
A standard for signal interconnections, widely used in synthesizers and particularly modular synthesizers. The phone jack standard was, as the name suggests, originally developed for use in telephone switchboards. The male jack is cylindrical with a pointed tip and a grooved band near the tip; it has an insulator that separates the tip area from the barrel of the cylinder (referred to as the "sleeve"). In use, interconnection cords or patch cords always have male connectors at both ends, and the equipment being connected always has female connectors.
There are actually three sizes of standard phone jacks, but only two are used in synths. The largest size has the male plug with a barrel diameter of 1/4" (6.35 mm) and is always referred to as the "quarter inch" jack. This size is commonly used for audio inputs and outputs on synthesizers and other musical equipment, and is the standard size for patch interconnection jacks in the Dotcom and MOTM modular synth formats. The next smallest size has the male plug with a barrel diameter of 3.5mm (it is sometimes referred to incorrectly as the "1/8 inch" jack). In synthesizers, this size is used mainly as the standard for patch interconnect in the Eurorack and Frac modular synth formats. (A third size with a male plug barrel diameter of 2.5mm is rarely seen in any musical gear.)
Phone plugs have the advantages of being inexpensive and fairly reliable for analog signal connections, and quick to connect and disconnect. The 1/4" size is known for being very sturdy and tolerating a lot of abuse; the main disadvantage is that the jacks take up a lot of space on a panel. The 3.5mm size takes up less space but tolerates less abuse. A feature of all types is that the female jacks can be arranged so that they have internal normalled connections, which is a "default" connection that is in effect when no plug is inserted in the jack.
Phone plugs and jacks may have two, three, or four separate contact surfaces. The two-contact type is known as "TS" (tip-sleeve) and is what is most commonly used with synths. The three-contact type is known as "TRS" (tip-ring-sleeve); it is commonly used in studios to support "balanced line" connections. Some synths have balanced-line outputs and have jacks that will provide a balanced line when a cord with a TRS plug is used, or a conventional unbalanced line when a cord with a TS plug is used. The four-contact "TRRS" type is seldom used in musical equipment.
Control Voltage?
A signal intended to control some other parameter, such that the value of that parameter corresponds to the input voltage. For instance, a voltage controlled oscillator might have a control voltage input which determines its output frequency. In an analog synthesizer designed according to the principle of voltage control, control voltages and audio signals are interchangeable, such that, for instance, the output of a VCO could be used as a control voltage input to the cutoff frequency of a voltage controlled filter.
The principles of voltage control were developed in the early 1960s by Don Buchla and Bob Moog, working independently. Their work was in turn based on some circuits designed for the RCA Synthesizer in the 1950s, and the work of Lamonte Young in the 1940s. Voltage control was a major step forward; prior to that time, synth parameters were usually controllable only manually by knobs or switches, which severely limited the playability and expressiveness of the instrument.
Gate Signal?
A signal which conventionally represents the pressing and releasing of a key on a keyboard, or some other on/off state, and is most commonly used to activate an envelope generator. Conventionally, a gate signal has two states. When no keys are pressed on the keyboard, the gate is in the low or inactive state. Pressing a key changes the gate signal to the active or high state, and it remains in that state as long as the key is pressed. (See ADSR for a description of how a typical envelope generator uses a gate signal.) The gate signal is by definition monophonic; on a monophonic synth, generally the gate signal will be in the high state as long as any key on the keyboard is pressed. However, true polyphonic synths extend the concept so that a gate signal exists (conceptually if not in actual implementation) for each voice. Gate signals can also represent the state of switches and other events with two states. Compare with trigger.
Format?
In the context of a modular synthesizer, the format is a set of parameters which specify the physical and electrical compatibility of a particular manufacturer's modules. Important mechanical parameters include the module height, the width of one horizontal unit (modules are usually designed in multiples of a basic unit width, referred as "1U", in order to avoid gaps between modules), and the pattern of mounting holes used for the screws that attach the module to the case's mounting rails. Important electrical parameters include the power supply voltages required, the type of connector used for connecting to the power supply, the voltage level of a trigger signal, and the type of jacks used for patch cords. The three most commonly used types of jacks are the 1/4" phone jack, the 3.5mm phone jack (often incorrectly referred to as a 1/8" jack), and the banana jack. There are grounding considerations that must be addressed when a modular which uses banana jacks is to be interconnected with another synth, or other equipment, which uses some other type of jack.
The formats used by modular synthesizers currently in production are often divided into categories, referred to as "small format" and "large format". Small-format modulars take up less space (the amount of space required is often a consideration when considering the purchase of a modular); they gain this space in part by using smaller knobs and jacks, which some users find uncomfortable to use. Large-format modulars generally use larger, easier-to-use knobs and sturdier jacks and other components, but they take up more room and are harder to move. The categories, with the most common formats used by current modular systems, are:
Small format:
Eurorack
Frac
Large format:
Dotcom, aka Moog Units or MU
MOTM
Modcan-A
ADSR
The most common type of envelope generator, producing a four-segment signal corresponding to four phases of a note's dynamics (in the usual case where the signal is used to control a voltage controlled amplifier that determines the note's volume). Each letter of the acronym stands for one of the four phases, in time order: attack, decay, sustain, and release. A typical ADSR allows the performer to set rise/fall rates for attack, decay, and release, and a level for the sustain phase.(Fancier envelope generators may have more settings or more operational phases.) Conventionally, an ADSR is triggered by the leading edge of a gate signal. The gate going high initiates the attack phase, in which the ADSR's output rises from the zero level to a set maximum level at the chosen rate.This is immediately followed by the decay phase, in which the output falls from the maximum level to the sustain level. The output remains at the sustain level until the gate signal goes back low.At that point the release phase executes, and the ADSR output falls from the sustain level to its zero level at the chosen rate. Options often found on ADSRs are an input that allows all of the rates to be scaled (a function often tied to keyboard velocity, for acoustic instrument simulation), and a switch that allows making the rise/fall rates exponential with time instead of constant. (Such is often useful for percussion sounds.)
Manufacturer of the famous A-100 modular system (http://www.doepfer.de/home.htm)
ModularGrid is a database for modular synthesizers with an integrated planner where people gather information and sketch out their modulars.
Shopping cart
No items in shopping cart.