Broken Silicon Gainsburg - VCA/audio interface

Broken Silicon Gainsburg

The Gainsburg module from german manufacturer Broken Silicon contains two VCAs. Unlike normal VCAs these not only attenuate signals but can also boost them up to 24dB. This means plenty of GAIN! It can be…

€ 279,00
Broken Silicon
Broken Silicon
The German manufacturer Broken Silicon is focusing on individual solutions. Apart from a DSP cartridge for the Z-DSP module by Tiptop the Gainsburg VCA has a unique configuration offering a lot of boost.
Stock?

Click on the product and you will see the amount that is in stock!

In voorraad?

Klik op het product , dan zie je hoeveel ervan in voorraad zijn!
Sold out? Mail us.
Website manufacturer: http://brokensilicon.com/blog/
Shopping cart
No items in shopping cart.
Special Offer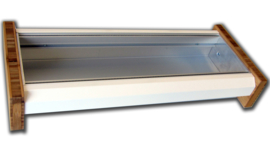 MS-84WB 84HP Skiff white + Bamboo (eurorack case)
€ 350,00
€ 275,00