Antimatter Audio Brainseed

Antimatter Audio BrainseedSTEP-SEQUENCING RECORDERThe Brain Seed is a realtime step recorder with many extras that packs as much fun and functionality as could be wedged behind a 4hp panel while keeping the interface as intuitive…

€ 229,00

Antimatter Audio Launch Codes

Antimatter Audio Launch Codes

COMPACT 5 CHANNEL BUTTON PERFORMANCE CONTROLLER/TRIG & GATE SEQUENCERThe Launch Codes is a compact modular performance source for manual or sequenced triggering and gating of five separate…

€ 229,00

Antimatter Audio Sub ring

Antimatter Audio Sub ringMULTIFUNCTION ANALOG SUB OCTAVE RINGMOD NOISE MIXERIZERThe Sub Ring is the missing 5-­channel analog mixer section of your modular, especially tuned to play well with oscillators. It features a ring mod,…

€ 229,00
Antimatter Audio
Antimatter Audio
Stock?

Click on the product and you will see the amount that is in stock!

In voorraad?

Klik op het product , dan zie je hoeveel ervan in voorraad zijn!
Sold out? Mail us.
Website manufacturer: http://www.antimatteraudio.com/
Shopping cart
No items in shopping cart.
Week aanbieding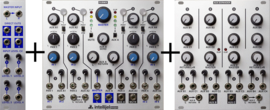 Intellijel - Dubmix + Mini exp. + Aux exp. Combi pack!
€ 968,00
€ 795,00