4ms - Tapographic Delay

4ms - Tapographic Delay

The Tapographic Delay is a complex multi-tap delay in the Eurorack format with a unique interface designed for live performance. It excels at transforming the simplest audio (a drone, a percussive sound)…

€ 399,00

4ms - Tapographic Faceplate - Black

4ms - Tapographic Faceplate - Black

DIY replacement faceplate for the Tapographic Delay. Black background with white artwork.
Soldering required.Please note: This black panel is available for the Tapographic Delay only as a DIY…

€ 38,00

4ms Euro Noise Swash (EURONS)

4ms Euro Noise Swash (EURONS)

The Eurorack Noise Swash is a chaotic random noise-maker and CV generator, generating its own sounds or working as an audio processor. As a stand-alone device it generates unpredictable continuously…

€ 249,00

4ms Euro Atoner (EUROAT)

4ms Euro Atoner (EUROAT)

The Eurorack Atoner is a unique and versatile device used for

∙ Creating quantized melodies tuned to an input frequency
∙ Generating poly-rhythmic clock/trigger outputs
∙ Pitch shifting/jumping…

€ 229,00

4ms - WAV Recorder

4ms - WAV Recorder

The WAV Recorder from 4ms Company is a high fidelity, two-channel stereo audio recorder with basic playback features. Accepting a wide range of input signals, from line-level to modular-level, the WAV Recorder…

€ 257,00

4ms - WAV Rec Faceplate - Black

4ms - WAV Rec Faceplate - Black

DIY replacement faceplate for the WAV Recorder. Black background with white artwork.
No soldering required.Please note: This black panel is available for the WAV Recorder only as a DIY project.…

€ 23,00

4ms - Listen IO (LIO)

4ms - Listen IO (LIO)

The Listen IO is a simple module which gets signals in and out of a Eurorack system by converting to and from normal modular levels. The top section converts any external signal to modular levels by…

€ 125,00

4ms Listen Four (L4)

4ms Listen Four (L4)

The Listen Four is a four channel stereo mixer with line, modular, and headphone outputs. Two mono channels with Pan knobs and two stereo channels with dual inputs provide optimal compatibility with both…

€ 189,00

4ms - Listen Four Quarters (L4Q)

4ms - Listen Four Quarters (L4Q)

The Listen Four Quarters is a four channel stereo mixer with 1/4" (6.35mm) TRS balanced outputs and 1/8" (3.5mm) headphones output. Two mono channels with Pan knobs and two stereo channels with…

€ 209,00

4ms - Listen Up (LUP)

4ms - Listen Up (LUP)

The Listen Up is a small passive expander for the Listen modules that provides stereo 1/4" (6.35mm) jack inputs and outputs. It connects to one or two Listen modules and/or WAV Recorder module with the…

€ 65,00

4ms Dual Looping Delay (DLD)

4ms Dual Looping Delay (DLD)

Dual Looping Delay from 4ms Company, designed by 4ms and Gary Hall

The Dual Looping Delay (DLD) is an advanced audio processor for creative synthesis. Not a tape or analog emulation but a modern…

€ 398,00

4ms - DLD Faceplate - Black

4ms - DLD Faceplate - Black

DIY replacement faceplate for the Dual Looping Delay. Black background with white artwork.
No soldering required.Please note: This black panel is available for the Dual Looping Delay only as a DIY…

€ 33,00

4ms - Stereo Triggered Sampler (STS)

4ms - Stereo Triggered Sampler (STS)

The Stereo Triggered Sampler is a high fidelity, two-channel stereo sample recorder and playback module. The STS can record high quality stereo files, while simultaneously playing two…

€ 439,00

4ms - STS Faceplate - Black

4ms - STS Faceplate - Black

DIY replacement faceplate for the Stereo Triggered Sampler. Black background with white artwork.
No soldering required.Please note: This black panel is available for the Stereo Triggered Sampler only…

€ 33,00

4ms Pingable Envelope Gen. (PEG)

4ms Pingable Envelope Gen. (PEG)

The Pingable Envelope Generator (PEG) from 4ms is a dual envelope generator whose envelope lengths are set by incoming clocks or "pings".

The PEG has full CV control of envelope shape, skew, and…

€ 309,00

4ms - PEG Faceplate - Black

4ms - PEG Faceplate - Black

DIY replacement faceplate for the Pingable Envelope Generator. Black background with white artwork.
No soldering required.Please note: This black panel is available for the Pingable Envelope Generator…

€ 33,00

4ms Quad Clock Distributor -Rev 2 (QCD)

4ms Quad Clock Distributor -Rev 2 (QCD)

Four channel voltage controlled Clock Divider/Multiplier with master Tap Tempo. Each channel can be synced to the tap tempo, to the channel above, or to an external clock. Each channel also…

€ 229,00

4ms - QCD Faceplate - Black

4ms - QCD Faceplate - Black

DIY replacement faceplate for the Quad Clock Distributor. Black background with white artwork.
No soldering required.Please note: This black panel is available for the Quad Clock Distributor only as a…

€ 23,00

4ms QCD Expander (QCDEXP)

4ms QCD Expander (QCDEXP)

The QCD Expander is an expansion module for the Quad Clock Distributor (QCD). The QCD Expander adds a host of features, turning the QCD into a programmatic non-linear sequencer. Each channel gets a CV…

€ 149,00

4ms - QCD Exp Faceplate - Black

4ms - QCD Exp Faceplate - Black

DIY replacement faceplate for the QCD Expander. Black background with white artwork.
No soldering required.Please note: This black panel is available for the QCD Expander only as a DIY project.…

€ 28,00

4ms Quad Pingable LFO (QPLFO)

4ms Quad Pingable LFO (QPLFO)

The Quad Pingable LFO is a compact, playable four-channel tap-tempo, clock-syncable LFO with variable skew and reset.

The QPLFO is designed to be useful in small portable systems that require…

€ 285,00

4ms - QPLFO Faceplate - Black

4ms - QPLFO Faceplate - Black

DIY replacement faceplate for the Quad Pingable LFO. Black background with white artwork.
No soldering required.Please note: This black panel is available for the Quad Pingable LFO only as a DIY…

€ 28,00

4ms Rotating Clock Divider Rev2 (RCD)

4ms Rotating Clock Divider Rev2 (RCD)

The Rotating Clock Divider (RCD) produces eight divided clock tempos from a single input clock. The divisions range from /1 to /64, including all odd and non-standard divisions such as /3 and…

€ 175,00

4ms - RCD Faceplate - Black

4ms - RCD Faceplate - Black

DIY replacement faceplate for the Rotating Clock Divider. Black background with white artwork.
No soldering required.Please note: This black panel is available for the Rotating Clock Divider only as a…

€ 19,00

4ms RCD Breakout (RCDBO)

4ms RCD Breakout (RCDBO)

The RCD Breakout adds features to the Rotating Clock Divider module. Six switches allow you to set the maximum Divide-by amount, Gate or Trigger mode, Counting mode, Spread mode, and Auto-Reset. The RCD…

€ 87,00

4ms - RCDBO Faceplate - Black

4ms - RCDBO Faceplate - Black

DIY replacement faceplate for the Rotating Clock Divider Break Out. Black background with white artwork.
No soldering required.Please note: This black panel is available for the Rotating Clock…

€ 19,00

4ms Shuffling Clock Multiplier Rev2 (SCM)

4ms Shuffling Clock Mulitplier Rev2 (SCM)

The Shuffling Clock Multiplier (SCM) produces eight multiplied clock tempos from a single input clock, ranging from x1 to x8 (x32 by using the Breakout). Some of the outputs can be…

€ 159,00

4ms - SCM Faceplate - Black

4ms - SCM Faceplate - Black

DIY replacement faceplate for the Shuffling Clock Multiplier. Black background with white artwork.
No soldering required.Please note: This black panel is available for the Shuffling Clock Multiplier…

€ 19,00

4ms SCM Breakout (SCMBO)

4ms SCM Breakout (SCMBO)

The SCM Breakout is an add-on module for the Shuffling Clock Multiplier. It adds a host of new features for controlling shuffle/swing patterns (Slip, Shuffle, and Skip), as well as Pulse Width, Mute, and…

€ 139,00

4ms - SCMBO Faceplate - Black

4ms - SCMBO Faceplate - Black

DIY replacement faceplate for the Shuffling Clock Multiplier Break Out. Black background with white artwork.
No soldering required.Please note: This black panel is available for the Shuffling Clock…

€ 13,00

4ms Shifting Inverting Signal Mingler (SISM)

4ms Shifting Inverting Signal Mingler (SISM)

The SISM is a 4-channel voltage manipulator that can scale, invert, attenuate, shift (dc offset), mix, split, and slice your CV and audio signals.

A plethora of red and blue LEDs (14)…

€ 159,00

4ms - SISM Faceplate - Black

4ms - SISM Faceplate - Black

SISM Faceplate - Black

DIY replacement faceplate for the Shifting Inverting Signal Mingler. Black background with white artwork.
No soldering required.Please note: This black panel is available for…

€ 28,00

4ms Spectral Mulitband Resonator (SMR)

4ms Spectral Mulitband Resonator (SMR)

The Spectral Multiband Resonator from 4ms Company is an innovative resonant filter which can process audio like a classic filter bank, ring like a marimba when plucked/struck, vocode, re-mix…

€ 459,00

4ms - SMR Faceplate - Black

4ms - SMR Faceplate - Black

DIY replacement faceplate for the Spectral Multiband Resonator. Black background with white artwork.
No soldering required. Includes replacement light pipes.Please note: This black panel is available…

€ 40,00

4ms - Spherical Wavetable Navigator (SWN)

4ms - Spherical Wavetable Navigator (SWN)

The Spherical Wavetable Navigator (SWN) is a six channel synthesizer that makes it easy to create slowly morphing drones, polyphonic melodies, evolving sequences, and rich textures. The…

€ 569,00

4ms VCA Matrix (VCAM)

4ms VCA Matrix (VCAM)

The VCA Matrix from 4ms is a playable 4x4 matrix of 16 VCAs.
Four CV or audio inputs can be routed in any amount/combination to four outputs, using the 16 CV control jacks, Level knobs, and Mute…

€ 360,00

4ms - VCAM Faceplate - Black

4ms - VCAM Faceplate - Black

DIY replacement faceplate for the VCA Matrix. Black background with white artwork.
No soldering required.Please note: This black panel is available for the VCA Matrix only as a DIY project. Basic…

€ 37,00

4ms Buffered Mult (BUFMULT)

4ms Buffered Mult (BUFMULT)

The Buff Mult is a buffered multiple with LED indicators to show positive and negative voltages. Using wide bandwidth opamps, it functions as a dual 1-to-3 or a single 1-to-6 mult for audio, video, or…

€ 79,00

4ms Barrel Cable Long

4ms Barrel Cable Long

2.1mm barrel plug. Longer barrel to barrel cable for daisy-chaining Row Powers. Cable is 10" long, suitable for connecting Row Powers across an entire 3U (for example connecting a Double Modular Row 6U to…

€ 20,00

4ms Barrel Cable short

4ms Barrel Cable short

2.1mm barrel plug. Short barrel to barrel cable for daisy-chaining Row Powers. Cable is 4" long, suitable for connection two adjacent Modular Rows that are directly connected or separated by a 30 or 45…

€ 19,00

4ms Flying bus pair

4ms Flying bus pair

Two cables with 7 male connectors each (total 13 connectors)

Flying Bus (male pin) are passive power distribution cables that work with the Row Power to distribute power to your modules. Can be daisy-chained…

€ 29,00

4ms ROW POWER 40 (black) incl. 90W power adapter!!

4ms row Power 40 Module, with Power Brick 90W and Micky Mouse 230V Power cable included!

The clean and regulated power solution Row Power 40 offers 40W of power, 1.5A@+12V, 1.25A@-12V. It is a good choice for medium systems (e.g.…

€ 175,00

4ms - Pod20 Powered + 4ms powerbrick

4ms - Pod20 Powered (4ms powerbrick 45W included)

( micky-mouse-powercable excluded! Keep in mind the depth of your modules!)

Low-cost, portable, compact enclosure that turns Eurorack modules into table-top instruments.

The…

€ 112,00

4ms - Pod26 Powered + 4ms powerbrick

4ms - Pod26 Powered (4ms powerbrick 45W included)

Low-cost, portable, compact enclosure that turns Eurorack modules into table-top instruments.

( micky-mouse-powercable excluded! Keep in mind the depth of your modules!)

The…

€ 120,00

4ms- Pod60 Powered + 4ms Powerbrick

4ms- Pod60 Powered (4ms powerbrick 45W included)

Low-cost, portable, compact enclosure that turns Eurorack modules into table-top instruments.

(micky-mouse-powercable excluded! Keep in mind the depth of your modules!)

The Pod60…

€ 193,00

4ms - Power Brick - Pod 45W

4ms - Power Brick - Pod 45W

Power brick for powering Pods. One power brick can power up to 10 typical Pods.
Pods can be daisy-chained using a Barrel Cable or Long Barrel Cable15V/3A (45W) / 2.1mm Barrel Plug (5.5mm outer…

€ 18,00

4ms - Pod20 UnPowered

4ms - Pod20 Powered

Low-cost, portable, compact enclosure that turns Eurorack modules into table-top instruments.

The Pod20 is 20HP with 1.34" (34mm) of available module depth.

Low-cost, portable, compact enclosure that turns…

€ 50,00

4ms - Pod26 UnPowered

4ms - Pod26 UnPowered

Low-cost, portable, compact enclosure that turns Eurorack modules into table-top instruments.

The Pod26 Unpowered is 26HP with 1.34" (34mm) of available module depth. No power supply is included, you must…

€ 55,00

4ms- Pod60 UnPowered

4ms- Pod60 UnPowered

Low-cost, portable, compact enclosure that turns Eurorack modules into table-top instruments.

The Pod60 Unpowered is 60HP with 1.34" (34mm) of available module depth. No power supply is included, you must…

€ 79,00
4ms
4ms Company from Portland USA has been designing and building innovative audio electronics for musicians since 1996.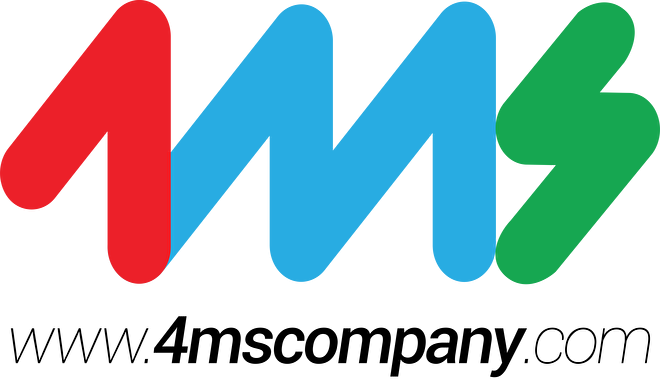 From polyrhythmic clock modules that count unhuman beat patterns, to chaotic noise generators that confound attempts to make the same sound twice, to routing matrices that are played like an instrument, to DIY kits and parts, the intend to offer alternatives to the traditional musician-instrument relationship.
In 1996, Dan Green founded an innovative effect pedal company named 3ms Pedals near Chicago, IL. In 1998 the company moved to St. Louis, MO, and began producing table-top noise devices as well as effect pedals for experimental musicians. In 2002, they changed their name to 4ms Company (d/b/a 4ms Pedals). In 2009, they moved to Austin, TX, when they began designing synthesizer modules. In 2012 they moved to beautiful Portland, OR, where they currently have their studio.
On this page we offer the 4ms assembled Eurorack modules.
Stock?

Click on the product and you will see the amount that is in stock!

In voorraad?

Klik op het product , dan zie je hoeveel ervan in voorraad zijn!
Sold out? Mail us.
Website manufacturer: http://www.4mspedals.com/
Shopping cart
No items in shopping cart.