AJH Entropic Doom - Black

AJH Entropic Doom

Entropic Doom is a voltage controlled noise based oscillator, or noisillator for short.

It generates 1/f noise and this is then sent through a feedback loop which allows the noise to be "tuned" to varying…

€ 349,00

AJH FFB914 Fixed Filter Bank Dark Edition

AJH FFB914 FIXED FILTER BANK DARK EDITIONThe Fixed Filter Bank 914 from AJH Synth is based on the sought after 914 Fixed Filter Bank from the 1960's Moog 900 series modular synthesiser system. The design was revisited and…

€ 679,00

AJH FFB914 Fixed Filter Bank silver

AJH FFB914 FIXED FILTER BANK SILVERThe Fixed Filter Bank 914 from AJH Synth is based on the sought after 914 Fixed Filter Bank from the 1960's Moog 900 series modular synthesiser system. The design was revisited and adapted for…

€ 679,00

AJH Finazlizer R-EQ black

AJH-SYNTH - Finazlizer black

The Finaliser R-EQ Reverb, EQ and Maximiser module:Perfect for adding that final touch to a modular patch, the AJHSynth Finaliser R-EQ module includes seven Mono / Stereo reverb types, along with a…

€ 499,00

AJH Gemini 2412 Dual SVF black

AJH - Gemini 2412 Dual SVF black

his module comprises two fully featured, and beautiful sounding 12db multimode filters, based around the classic vintage SEM filters. Each individual filter has LP, BP and HP outputs, along with a…

€ 499,00

AJH Gemini 2412 Dual SVF silver

AJH - Gemini 2412 Dual SVF silver

his module comprises two fully featured, and beautiful sounding 12db multimode filters, based around the classic vintage SEM filters. Each individual filter has LP, BP and HP outputs, along with…

€ 499,00

AJH Lunar Module

AJH LUNAR MODULEThis module is designed to re-create the ground to space and space to ground transissions from the Apollo era.

To be "Mission Control Houston" the Quindar PTT (push to talk) button adds a short 2,525Hz Quindar…

€ 309,00

AJH MiniMod CV Mix-Offset-VCA Black

AJH MiniMod CV Mix-Offset-VCA Black

The MiniMod CVMix-Offset-VCA is a compact 10hp wide Eurorack format module. It has been developed to offer a range of useful utilities for the MiniMod system and of course other Eurorack…

€ 229,00

AJH MiniMod CV Mix-Offset-VCA silver

AJH MiniMod CV Mix-Offset-VCA silver

The MiniMod CVMix-Offset-VCA is a compact 10hp wide Eurorack format module. It has been developed to offer a range of useful utilities for the MiniMod system and of course other Eurorack…

€ 229,00

AJH MiniMod DH-ADSR black

AJH MiniMod DH-ADSR black

The Complex Envelope Generator is based on one channel of the existing MiniMod Dual EG. In order to increase versatility, it has a Release control added to the envelope so that it is full ADSR but still…

€ 309,00

AJH MiniMod Dual Contour (black)

MiniMod Dual Contour (black) DUAL CONTOUR GENERATORS

Two independant Contour Envelope Generators in a single 12hp wide Eurorack module. These are very accurate replicas of the Model D contour generators, with identical circuitry…

€ 309,00

AJH MiniMod Dual LFO + VCA black

AJH MiniMod Dual LFO + VCA black

Dual LFO and VCA module 10HP wide. - This has two LFO's each with variable waveshape. LFO 1 has the addition of a low range and a Sync input. It includes a DC coupled VCA, the input of this is…

€ 309,00

AJH MiniMod Glide + Noise (black)

MiniMod Glide + Noise (black) GLIDE, HOLD & NOISE

There is a lot of power and funtion contained within this deceptively small 6hp module. It features both the Glide and the Noise generator circuitry from the vintage Model D…

€ 239,00

AJH MiniMod Next Phase Dark Edition

AJH MINIMOD NEXT PHASE DARK EDITIONThe next generation 12 stage, analogue multi tap Phaser, which is a development of, and replacement for, the earlier MegaPhase 12 unit. It includes all of the features of the MegaPhase 12 and is…

€ 419,00

AJH MiniMod Next Phase silver

AJH MINIMOD NEXT PHASE SILVERThe next generation 12 stage, analogue multi tap Phaser, which is a development of, and replacement for, the earlier MegaPhase 12 unit. It includes all of the features of the MegaPhase 12 and is also…

€ 499,00

AJH MiniMod Ring SM black

AJH MiniMod Ring SM black

The RING SM module is quite unique because its ring modulator circuit is based on a discrete transistor AC coupled Gilbert Cell design dating back to the early 1960's. The overload and distortion…

€ 379,00

AJH MiniMod Ring SM silver

AJH MiniMod Ring SM silver

The RING SM module is quite unique because its ring modulator circuit is based on a discrete transistor AC coupled Gilbert Cell design dating back to the early 1960's. The overload and distortion…

€ 379,00

AJH Minimod Sonic XV black

AJH-Synth Minimod Sonic XV black

The Sonic XV Eurorack module is a four pole Diode Ladder Filter, featuring the circuitry and sound of the Musonics Sonic V synthesiser, which has a quite different character from transistor ladder…

€ 379,00

AJH Minimod Sonic XV Silver

AJH-SYNTH Minimod Sonic XV Filter Silver

The Sonic XV Eurorack module is a four pole Diode Ladder Filter, featuring the circuitry and sound of the Musonics Sonic V synthesiser, which has a quite different character from…

€ 379,00

AJH MiniMod VCA (black)

MiniMod VCA (black) DISCRETE CASCADED VCA

The MiniMod Discrete Cascaded VCA is a 10hp wide Eurorack format module. It features two fully discrete transistor VCA cores which are hardwired in series.

There are two audio inputs…

€ 229,00

AJH MiniMod VCA (silver)

AJH-Synth MiniMod VCA (silver)

Accurate clone of the transistor VCA from the early Minimoog. To be exact it's a cascaded dual VCA, as the Minimoog had two, connected in series. Use the first for distortion and the second as…

€ 229,00

AJH MiniMod VCF (black)

MiniMod VCF (black) TRANSISTOR LADDER FILTER

The stuff of legends, the Moog transistor ladder filter changed the face of the musical landscape forever. The MiniMod VCF is a faithful replica of the 24db/octave low pass filter used…

€ 309,00

AJH MiniMod VCF (silver)

AJH-Synth MiniMod VCF (silver)

Faithful clone of the early Minimoog lowpass filter with all transistor pairs selected and matched by hand what was nt the case with the later Minis. The circuitry runs internally with exactly the…

€ 309,00

AJH MiniMod VCO (black)

MiniMod VCO (black) VINTAGE TRANSISTOR CORE VCO

The discrete transistor core of this Voltage Controlled Oscillator is an exact emulation of the original and now very rare R A Moog Model D Oscillator from 45 years ago, and the…

€ 379,00

AJH V-Scale variable Buffer black

AJH V-Scale variable Buffer black

This is a precision active buffer and multi which has outstanding performance, it features very high input impedance, very low output impedance and an offset voltage of

€ 159,00

AJH V-Shape Black

AJH V-SHAPE BLACKThe V-Shape is two modules in one, a wave twister and a distortion / wavefolding module. Both sections of the modules are all analog in design, and both can be used independently or they can be normalised in…

€ 309,00

AJH V-Shape Silver Edition

AJH V-Shape Silver Edition

The V-Shape is two modules in one, a wave twister and a distortion / wavefolding module. Both sections of the modules are all analogue in design, and both can be used independently or they can be…

€ 309,00

AJH Wave Swarm Dark Edition

AJH Wave Swarm Dark Edition

The WaveSwarm is a waveform animator, and is an all analog dual channel device. Each channel simulates up to six VCO's beating in unison with a different beat frequency between each animation. The…

€ 379,00

AJH WaveSwarm Silver

AJH WAVESWARM SILVERThe WaveSwarm is a waveform animator, and is an all analog dual channel device. Each channel simulates up to six VCO's beating in unison with a different beat frequency between each animation. The fixed beat…

€ 379,00
AJH-SYNTH
AJH-SYNTH Mini-Moog modules.

AJHSynth is headed up by Allan "J" Hall, who has been involved with synths, electronics and music for more years than he cares to remember! He started by building a guitar fuzz box at the tender age of 12 and an interest in synthesisers and electronic music soon followed, fuelled by an unhealthy overexposure to early Tangerine Dream, Pink Floyd, Vangelis and Kitaro. For the last 15 years he has been building and modding synth systems both for himself and other electronic musicians, as well as spending some time as a semi-pro musician playing keyboards in several rock and tribute bands.
Allan spent five years as a service technician repairing and modifying Moog, Arp, Korg, Roland and other analogue synthesisers along with some Pro Audio design work, previous to this he spent two years designing and building "boutique" valve (tube) guitar amplifiers.
Now Allan has made an Eurorack collection of modules with which you really can build your own Minimoog Model D!
AJHSynth are based near Bournemouth, on the South coast of England, where this small but enthusiastic bunch of synth heads now indulge their passion for all things modular!
These Eurorack modules are available in vintage black or silver.
SOUNDS & VIDEO page
To build your own Minimoog model D you need 3x VCO, 1x VCF, 1x VCA, 1x Dual Contour, 1x Glide +Noise (see below)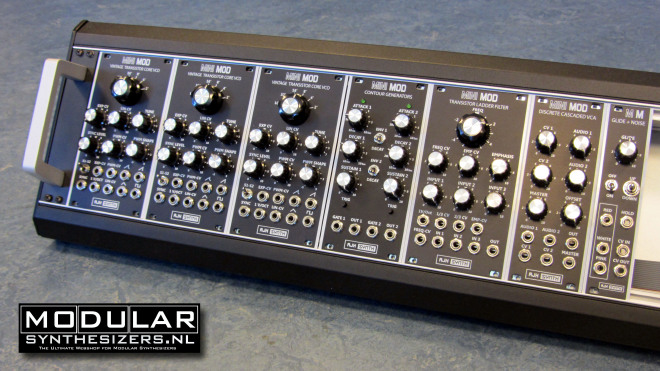 Stock?

Click on the product and you will see the amount that is in stock!

In voorraad?

Klik op het product , dan zie je hoeveel ervan in voorraad zijn!
Sold out? Mail us.
Website manufacturer: http://www.ajhsynth.com/Minimod.html
Shopping cart
No items in shopping cart.