Feb 2022

Make Noise 0-Coast (semi-modular) stand alone Synth

Make Noise 0-Coast (semi-modular) stand alone Synth

The 0-COAST is a single voice patchable synthesizer. It's name reflects the fact that it utilizes techniques from both the Moog and Buchla paradigms (aka "East Coast," and…

€ 529,00

Feb 2022

Make Noise - 0 CTRL

Fully analog and patch programmable, no menus or modes, what you patch is what you get!

Sequence and Control the Pitch, Strength, and Time of your synthesizer voice, per step

Voltage control over Stop and Direction

Dynamic…

€ 429,00

Make Noise MATHS

Make Noise MATHS

MATHS is an analog computer designed for musical purposes. Amongst other things, it will allow you to:

∙ Generate a variety of linear, logarithmic, or exponential triggered or continuous functions

∙…

€ 325,00

Feb 2022

Make Noise Strega

Make Noise Strega

Make Noise is proud to introduce Strega!

Strega is an audio alchemical experiment. Activate! Spill the tonic into time and let time decay through the filter to hear the results.

Strega is an instrument…

€ 619,00

Make Noise Pressure Points

Make Noise Pressure Points

Pressure Points is a controller module, an analog sequencer that is played by hand. Touching the gold plated copper wires (aka Touch Plates), you become part of the circuit, generating a gate signal…

€ 229,00

Make Noise Dynamix

Make Noise - Dynamix

DynaMix is a fast two-channel Low Pass Gate, dynamics manager and mixer, the core of which is derived from our 0-COAST synthesizer. The LEVEL parameter provides simultaneous voltage control over the Amplitude…

€ 179,00

Make Noise DPO

Make Noise DPO

A dual Voltage Controlled Oscillator designed for generating complex waveforms. Expanding on the classic arrangement of Primary and Modulator Oscillators, the DPO has both of the VCOs operable as complex signal…

€ 675,00

Make Noise Morphagene

Make Noise Morphagene

The Morphagene is a next generation tape and microsound music module that uses Reels, Splices, and Genes to create new sounds from those that already exist. Search between the notes to find the unfound…

€ 569,00

Make Noise Echophon

Make Noise Echophon

Pitch Shifting Echo with smooth Time Modulation, Tempo Sync, saturating Feedback and a unique Pitch Shifting algorithm inspired by the Springer Tempophon and lovingly engineered by DSP Guru Tom Erbe of…

€ 429,00

Make Noise ERBE-VERB

Make Noise ERBE-VERB

The Erbe-Verb is more than a collection of reverb algorithms or presets, it is a unique, modeless, continuously variable reverb algorithm with complete voltage control. Typical reverb types such as plate,…

€ 549,00

Feb 2022

Make Noise Function

Make Noise Function

FUNCTION is part of the MATHS family of control voltage utility modules. It is a small analog computer designed for solely musical purposes.

∙ Generate a variety of linear, logarithmic, or exponential…

€ 169,00

Feb 2022

Make Noise modDemix

Make Noise modDemix

New version of the modDemix.(July 2014)

Differerences from the original:

"The modDemix will return to stock with subtle changes that make the module more intuitive and more useful. The faceplate graphics…

€ 149,00

Feb 2022

Make Noise LxD

Make Noise LxD

LxDThe LxD is a dual-response, two channel, direct-coupled, Low Pass Gate, which utilizes vactrols in order to provide simultaneous control over the Amplitude and Frequency Spectrum of an INput Signal. It is, in…

€ 125,00

Feb 2022

Make Noise Optomix

Make Noise Optomix

A two channel Low Pass Gate, providing simultaneous voltage control over amplitude and frequency content of a signal. It is in essence, a Voltage Controlled Filter Amplifier (VCFA) that has an extremely organic…

€ 225,00

Make Noise Mimeophon

Make Noise Mimeophon

The Mimeophon music synthesizer module is a stereo, multi-zone color audio repeater by Make Noise and soundhack, coded by Tom Erbe.

The Mimeophon (from Greek mimeo (repeat/copy) and phon (sound)) is a modern…

€ 399,00

Make Noise QPAS

Make Noise QPAS

The Quad Peak Animation System combines the auditory enveloping of stereo spaced peaks with the animation of two or more peaks in a single channel dancing around each other or engaging in primitive vocalizations.…

€ 406,00

Feb 2022

Make Noise Rene mk2

Make Noise Rene 2018

The René music synthesizer module is a a powerful three-dimensional prism of composition. It is the world's only 3D Cartesian Music Sequencer. Named for the French philosopher & mathematician René…

€ 555,00

Feb 2022

Make Noise STO

Make Noise STO
STOA compact Voltage Controlled Oscillator designed for generating SINE waves, Variable wave-SHAPEs, SUB-Octaves, Oscillator SYNC and Linear FM in the analog domain. The Sub-Timbral Oscillator is the more subtle and…

€ 219,00

Make Noise Multiple / Gate combiner

Make Noise Multiple / Gate combinerMultipleThe Multiple is a simple but important module that allows for sending a signal to multiple destinations. Within the Make Noise system the Multiple may also be used for combining clock,…

€ 37,00

Make Noise Wogglebug (black)

Richter WogglebugThe "WoggleBug" is a random voltage generator, originally designed by Grant Richter of Wiard Synthesizers. It is a continuation of the "smooth" and "stepped" fluctuating random voltage sources pioneered by Don…

€ 275,00

Make Noise Tempi - Time shifter

Make Noise Tempi - Time shifter

TEMPI is a 6 CHannel, polyphonic time-shifting clock module. It provides an intuitive method for creation and recall of complex clocking arrangements within a modular synthesizer system. Using…

€ 295,00

Make Noise X-Pan

Make Noise X-Pan

X-PAN is a compact and powerful 5 channel Voltage Controlled Stereo Mixer with Low Noise and High Headroom allowing for creation of complex panoramic audio imagery in just 10hp.

X-PAN is highly responsive to…

€ 271,00

Feb 2022

Make Noise XOH

Make Noise XOH

The XOH (miX Out Headphone) music synthesizer module is a stereo mixer, headphone amplifier and output interfacing module for your modular synthesizer. It consists of two stereo input channels with independent…

€ 119,00

Make Noise 10HP blank

Make Noise 10HP blank

Black colored pcb material with logo's

(design can be changed)

€ 10,00

Make Noise 6 HP blank

Make Noise 6 HP blank

Black colored pcb material with logo's

(design can be changed)

€ 5,00

Make Noise 4 HP blank

Make Noise 4 HP blank

Black colored pcb material with logo's

(design can be changed)

€ 5,00

Make Noise 1HP blank

Make Noise 1HP blank

Black colored pcb material with logo's

(design can e changed)

€ 4,00

Make Noise 6" pink patch cable 5-pack

MAKE NOISE PATCHCABLES (5-PACK, PINK)

length: 24,5 cm (from tip to tip)

color: hot pink

plug: molded, straight 3.5mm mono plug on each side

5 cables inside the package.

€ 13,00

2022

Make Noise 7U CV Bus Case (erurorack case)

MAKE NOISE 7U CV BUS CASETheir 208hp 7U Metal CV Bus Case ships ready to use. Just add modules, patch cables and inspiration. The powder coated metal construction is 2 lbs. lighter than our wood Shared System case without…

€ 695,00

Make Noise knob blue, medium size

Make Noise knob blue, medium size

Medium sized black-blue knob like those used by Make Noise since April 1012. For matching the look of your old modules to the design of the new ones.

17 mm high

bottm 13 mm wide

top 10 mm…

€ 2,00

EOL

Make Noise Brains

Make Noise Brains

BRAINS is a clocked sequential binary event machine. It is designed to be connected to one or two Pressure Points to form a 4 or 8-Step 3-channel analog sequencer. Classic synthesis control!

∙ Voltage Control…

€ 129,00

eol

Make Noise Contour

Make Noise Contour

Contour is a 4 Stage function generator, or ADSR, derived from our 0-COAST synthesizer. It is designed to create control voltages to drive the Dynamix, modDemix and other fast VCAs, VCFs, and more. The Contour…

€ 120,00

End of life

Make Noise Teleplexer

Make Noise Teleplexer

Telegraph Style signal multiplexer.

The Teleplexer is a telegraph style multiplexer (signal router) that applies the fast, physically immediate techniques of telegraphy to playing the modular synthesizer.…

€ 130,00

EOL

Make Noise Rosie

Make Noise Rosie

Disco-Style cue-system w/ FX loop

RosieRosie is an output interfacing module with the added functionalities of FX Loop, Crossfader and Auto-Cue system. It is designed to facilitate live performance on the…

€ 155,00

End of life

Make Noise RxMx

Make Noise RxMx (out of production)

Vactrol-based 6-input, 3-output macro-lowpass gate and signal crossfader, based on Grant Richter's circuit idea for applying "cadavre exquis" (aka exquisite corpse, a technique of serial…

EOL

Make Noise Telharmonic (& Spiratone)

Make Noise Telharmonic (Has Spiratone inside)

In our opinion an awesome new sound source...

The tELHARMONIC is a Multi-Voice, Multi-Algorithm synthesizer module named for the music hall considered by some to be the location of…

€ 379,00

end of life

Make Noise FXDf

Make Noise FXDf

6 Band Fixed Filter bank offering simultaneous 6db/ Octave and 12db/ Octave inputs. The 6 filter bands are spaced at roughly 11 to 13 semitones and cover a range of around 6 octaves. The FXDf is useful for…

end of life

Make Noise Mysteron

Make Noise Mysteron

The Mysteron is a voltage controlled Dual Digital Waveguide algorithm that is a bit of a mystery even to those of us involved in its design. Despite being completely digital, it is highly organic, displaying…

eol

Make Noise Phonogene

Make Noise Phonogene

The Phonogene is a digital re-visioning and elaboration of the tape recorder as musical instrument. It takes its name from a little known, one of a kind instrument used by composer Pierre Schaeffer. It is…

€ 379,00

EOL

Make Noise Dinpower

Make Noise Dinpower

This item is discontinued. When sold out no longer available (we did found a few in our stock)

(Glossy surface like the old Make Noise Modules, not matte as the recent MN modules)

The DIN Power is a simple…

€ 49,00

EOL

Make Noise Analog Memory

The very last one (with shiny surface) While stock lastThe Analog Memory module uses an innovative new data storage technology called "Mechanically Orbited Carbon," to store and recall control voltage values for use within the…

€ 225,00

EOL

Make Noise MMG

Make Noise MMG (EOL)

A vactrol based Voltage Controlled Filter and Low Pass Gate using our QMMG core. The MMG bridges the Far East and West Coast synthesis styles by allowing for highly resonant acidic squelch and organic,…

€ 285,00
Make Noise
Makenoise was founded by Tony Rolando. At the age of 12 he connected his e-guitar to a Pioneer SR-202 reverb and he has "been warped, searching for inspiration in sound ever since!" He got his start into engineering while working it the electronics industry and then started building custom music electronics under the names OWL and Makenoise. The once tiny enterprise from Asheville deleveloped to a respectable manufacturer.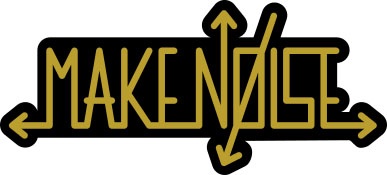 Stock?

Click on the product and you will see the amount that is in stock!

In voorraad?

Klik op het product , dan zie je hoeveel ervan in voorraad zijn!
Sold out? Mail us.
Website manufacturer: http://www.makenoisemusic.com/
Shopping cart
No items in shopping cart.